Mama Strut combines the proven technique of sports science technology to give mamas the best maternity and postpartum care.
Start Today!
We will verify your insurance coverage and get back in touch!
POSTPARTUM SUPPORT BRACE
Your postpartum lifesaver! Mama Strut will help you hold it all together with our postpartum brace, developed by and for moms. Naturally heal your body with complete care that combines compression, heat and ice therapy, and a sleek design that helps you be mobile so you keep up with life and baby.
STEP 1
Submit Form
Fill out the quick form above to get started
STEP 2
We Verify
We'll verify your insurance and prescription
STEP 3
Free Shipping
We'll ship your supplies to you
Mama Strut Maternity Support brace reduced a lot of pressure on my back, helping me relax better throughout my pregnancy.
- Renae
Mama Strut Postpartum Support brace was a lifesaver!
- Candice
THE MAMA STRUT DIFFERENCE
Mamas know that support is important, which is why belly bands have been around for centuries to help women hold it together. But belly bands are missing a key element --- pelvic floor and perineum support.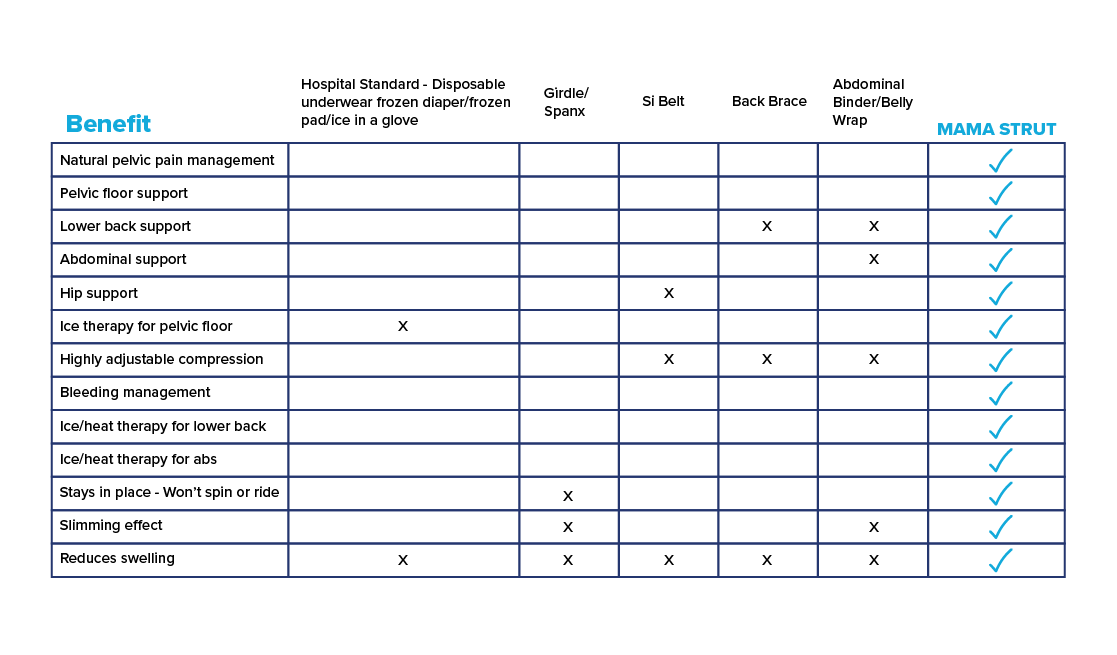 FAQ
The Affordable Care Act and most insurance companies provide a number of products under health insurance such as breast pumps, garments, compression stockings, diabetes supplies, and even blood pressure monitors.
We automatically check your insurance benefits and then contact you to let you know of all your options.
It can be very quick but insurance can be tricky so please allow up to 2 weeks. Thank you! If you have an urgent request, please email us at partners@maternitypartners.com.
Yes all insurance companies require a prescription to ensure you are in need of this product. To get ahead of the process, please have your physician complete a prescription form. You can use our
sample prescription form
to send to your doctor.